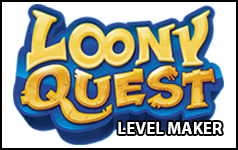 (pour lire cet article en français cliquez ici)
If you haven't heard of it yet, Loony Quest is a pretty excellent Boardgame published by Libellud, merging videogames and boardgames.
In the way of classic platform games, you'll jump your way through colorful worlds, avoiding villains and collecting XP. The game captures the genre with brio.
Delighted by the concept, I wanted to have some fun creating a Rayman level for the game. I ended up with a full world and made a Photoshop template allowing you to create your own levels during the process. The template is simple enough to understand and contains all your basic needs to recreate the various elements needed for a Loony Quest level (what type of quest, of obstacles, how many points does it earn you, the "core visuals" of the game like starting points, bonus & malus, etc…) but you'll still have to find and add your own elements to create the levels, such as blocks and villains !
The template has a few Rayman elements in it, but nothing stops you from making a Mario World or whatever you like.
This template is shared with the authorization of Libellud, but of course is restricted to personnal use !
Please do not update the template vith other visuals from Loony Quest. What we can share is limited for very understandable reasons =)
Preview of the 6 Levels from World 1 (Dojo) :
Preview of the 6 Levels from World 2 (Underwater) :
Preview of the 2 Special Stages, that are actually 3 panels each to be added together :
Download the PSD (Photoshop File) for the Level Maker
Download the Rayman Fan Expansion World 1  (just print at 100%)
Download the Rayman Fan Expansion World 2 (just print at 100%)
(right click then "save as" should work, it may take a little bit of time)
The rules :